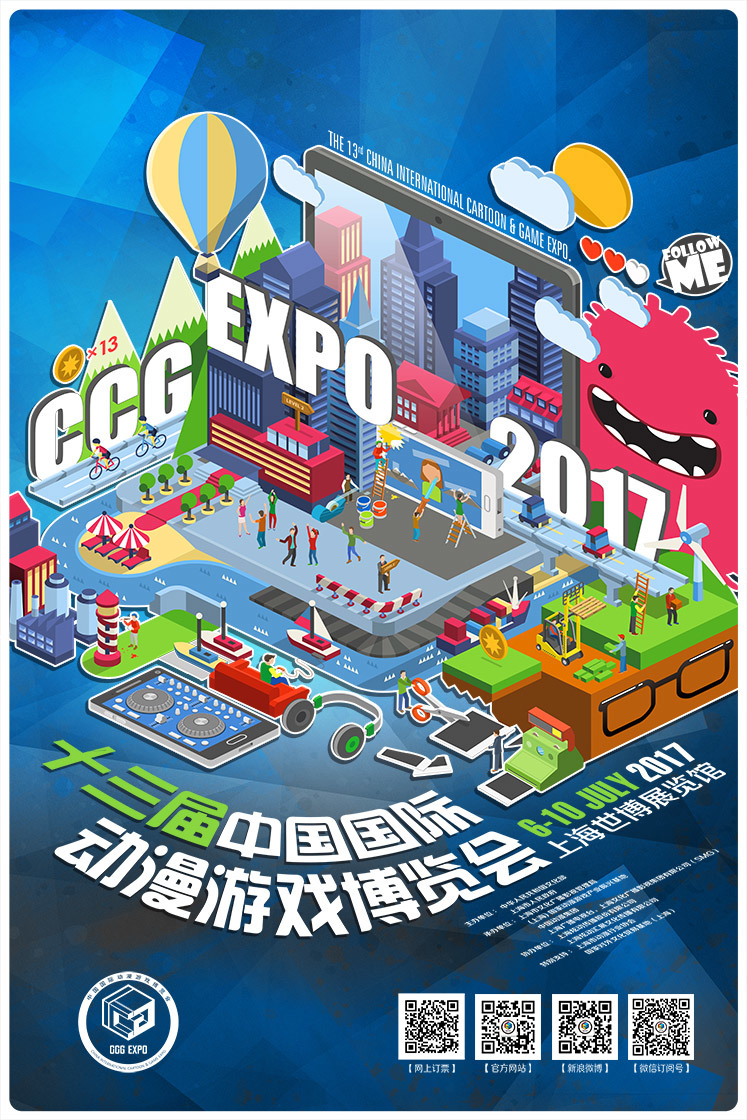 | | |
| --- | --- |
| 展览名称:第13届中国国际动漫游戏博览会 | 展览时间:2017年7月6日(周四)至7月10日(周一) |
| 展览面积:主展馆5.3万平方米 | 展览地点:中国•上海•上海世博展览馆(原世博主题馆) |
China International Comics and Games Expo (hereinafter referred to as CCG EXPO) is a comprehensive exhibition of comics and games co-sponsored by the Ministry of Culture of the PRC and Shanghai Municipal People's Government, co-organized by Shanghai Municipal Administration of Culture, Radio, Film and TV, China Animation Comic Game (ACG) Group, (Shanghai) National Comics and Game Industry Revival Base, Shanghai Radio and TV Station and Shanghai Media Group (SMG). It has been successfully held for 12 sessions by 2017.After twelve years' development since the first exhibition was successfully held, the annual CCG EXPO has become a professional, international, high-level and large-scale event, with BtoB playing a primary role and BtoC playing a secondary role.
Under the principle of enhancing the development of original comics and games as well as building a powerful platform for business negotiations of comics and games, BtoB section of CCG EXPO is dedicated to providing a new approach for operation and development and also a platform for propaganda and exhibition for the outstanding original comics projects at home and abroad. Moreover, it also offers new opportunities of exchanges and crossover cooperation for all industrial parties. Due to many years' experience in this field, BtoB section in 2016 CCG EXPO has extremely exciting performance in which Commercial Venue, Industrial Summit Forum and Competition of emerging talents correlate with each other. 14 forums and professional activities were held; 63 corporates exhibited at the Commercial Venue; 116 matching-oriented activities were held; 125 outstanding comics and games drafts were received from home and abroad, including those designated by their universities or colleges. In 2017, BtoB section of CCG EXPO will be expanded on the basis of that in 2016. It will regard Commercial Venue, Industrial Summit Forum and Competition of emerging talents as its three pillars to further enhance matching-oriented activities, theme salons and corporate publicity. In addition, various small activities will also be introduced to the section, such as roadshow for excellent projects and creation workshop. These will contribute to diversified forms and broader audience.
This EXPO continues to adhere to the concept of "Big Comics" with a particular focus on the whole industrial chain of comics and games. More than 300 worldwide exhibitors are invited to participate in the exhibition and the exhibition area of foreign exhibitors account for over 40% of the total area.
The 13th China International Comics and Games Expo will be held in Shanghai in July, 2017. We are looking forward to meeting the leaders and professionals in the comics and game industry at the coast of Huangpu River.